Engagement Ring Styles Guide: Find Your Perfect Design
Engagement rings come in different styles, from simple solitaire to elaborate vintage-inspired rings. Other popular engagement ring styles include pavé, halo, and side stones.
Choosing an engagement ring can be overwhelming, as there are so many things to consider.
"Will they love it?" is probably the first question you'll ask yourself. However, style doesn't only determine appearance but also durability —an aspect that is often overlooked.
Don't know where to start? Don't worry. We've got your back!
This article will examine some of the most popular engagement ring styles, explaining their unique attributes and the benefits that these characteristics offer.
At the end of this article, you'll be armed with everything you need to choose the right engagement ring.
Engagement ring styles
Ring style refers to the design aesthetic of an engagement ring due to how its gemstones are mounted into the metal band.
Some of the most popular ring styles are:
Solitaire
Pavé
Halo
Side stones
Vintage
Solitaire
The Solitaire is the ultimate classic style. It features a single gemstone set alone on the metal band using prongs or claws. Because of the simplicity of the solitaire engagement ring setting, the mounted gemstone is the focal point.
The solitaire ring is all about showing the beauty of the single gemstone.
Good reasons to choose the solitaire engagement ring style include:
Simplest design, featuring just a central stone
The classic solitaire is the simplest ring style. This makes it perfect for anyone with a simple and elegant style. The Solitaire's elegant simplicity makes it a ring style that never goes out of fashion.
Though fashion styles and trends have changed over the years, the solitaire ring has remained timeless. This makes it the most popular engagement ring style.
The simple elegance of solitaire rings also makes them easy to care for. With fewer details, the rings have fewer crevices for dirt to get into, making them easier to maintain.
A perfect solitaire is Giulia. It features a gorgeous round brilliant cut diamond on a classic four-prong solitaire setting, and a discreet band gives the stage to the brilliant centrepiece, allowing it to stand out with unrivalled elegance.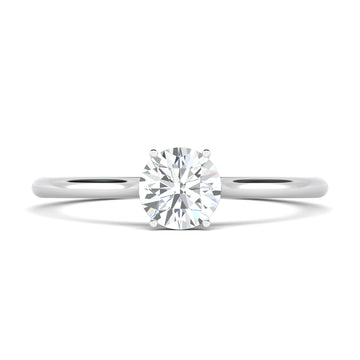 Versatile to pair with other jewellery pieces
Due to the simplicity of their design, solitaire rings are very versatile when it comes to pairing with other jewellery pieces. For example, when the engagement progresses to a wedding, you'll need to match the wedding ring with the engagement ring.
Interestingly, most wedding rings match solitaire engagement rings beautifully. The solitaire engagement ring style is a good choice if you want multiple options when selecting a wedding ring that pairs well with it.
The solitaire ring style also pairs well with other types of hand jewellery and clothing.
Good with any type of cut
The solitaire ring style accommodates a wide range of diamond cuts. Know that there are different types of diamond shapes, each uniquely unlocking the diamond's aesthetic qualities.
While fancy-cut diamonds may struggle to match other engagement ring styles, they pair well with solitaire. Thus, not only are there round solitaire engagement rings, but you'll also find cushion-cut solitaires, pear-shaped solitaires, emerald-cut solitaires, and more.
Whatever diamond shape reflects your personality, a solitaire ring style is one of the best styles for helping the diamond stand out to showcase its uniqueness and beauty optimally.
View our selection of gorgeous solitaire engagement rings featuring different diamond shapes (including round, pear-shaped, emerald, princess cut, and more).
Read also: The 7 Most Popular Diamond Shapes.
Pavé
The pavé ring style features a big centre diamond set on a metal band and other small diamonds set along the band. It is simply a solitaire ring featuring tiny diamonds along the metal band.
Like a solitaire ring, a pavé ring has a big centrepiece set on a metal band.
But in addition to the big centrepiece, small diamonds line the band, giving it a more stylish look.
A perfect pavé engagement ring is Bianca. It features a round-cut diamond held by a four-prong setting and a band adorned halfway with small sparkling diamonds.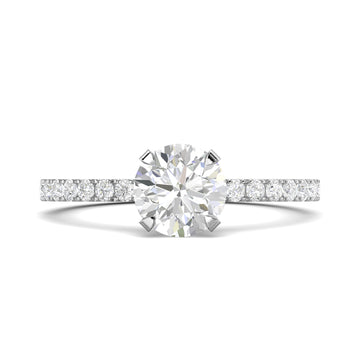 Good reasons to go for a pavé engagement ring include:
Adds more sparkle and glamour to the design while keeping it minimal
The pavé ring has the simplicity of solitaires but with more sparkle and glamour.
Each of the many small diamonds lining the metal band catches and reflects light, creating a sparkle effect that gives the pavé engagement ring a breath-taking shimmer.
Depending on how much of the metal band the additional small diamonds cover, there are different types of pavé engagement rings: 
Full pavé: The small diamonds cover the entirety of the metal band.
Half pavé: The small diamonds cover half the metal band.
¾ pavé: The small diamonds cover three-quarters of the metal band.
All pavé options are really beautiful. Personal style rules supreme when deciding what pavé ring to go for. However, half pavé engagement rings are some of the most popular because of cost and comfort.
The full and ¾ pavé rings require more diamonds, making them more expensive than the half pavé ring.
The diamonds and prongs on the full and pavé rings press against your fingers (as the diamonds cover all or much of the band). Some wearers say these diamonds touching their fingers cause discomfort, meaning half pavé ring may be more comfortable.
Good with any type of cut
Being a solitaire at heart, the pavé ring style accommodates different diamond shapes.
Whether you want a round-cut or oval centre diamond or more fancy cuts (like princess cut, pear-shaped, etc.), the pavé ring style will match it seamlessly and enhance its beauty.
See our collection of pavé engagement rings featuring gemstones of different shapes.
Halo
A halo is a circle of light around the head of a holy person in religious drawings. The halo ring style draws from this. The halo ring style features a circle of small accent stones surrounding a larger centre stone.
The halo setting (the circle of small glistening diamonds around a big centrepiece) is often paired with a pavé band (lined with small diamonds) for a more sparkling effect.
A micro-pavé halo gives the illusion of a larger centre stone.
The Ebbinghau Illusion explains that anything looks bigger if it is surrounded by similar (but smaller) items. Thus, a centre diamond that is less than a carat will appear up to a carat when halo diamonds are sparkling around it.
Elisa is a stunning micro-pavé halo engagement ring. The eye-catching diamond engagement ring features an intricate halo of gems surrounding and accentuating a centre oval diamond and diamond accents on the band to add more brilliance.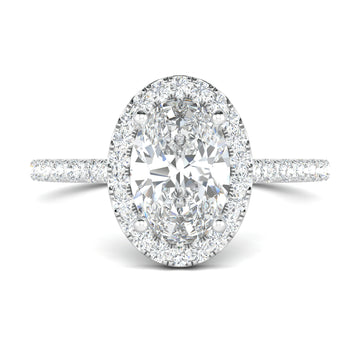 Other good reasons to go for a halo engagement ring include:
It can give an extra "wow" factor if you choose a coloured central stone and a diamond halo
The halo ring setting lets you mix and match diamonds and gemstones for a more dazzling ring.
A perfect example is the eye-catching Diana Blue. This design, inspired by the engagement ring chosen by Princess Diana, features a stunning oval blue encircled by round diamonds in a star-like fashion.
A thicker halo around a centrepiece makes the engagement ring look more elaborate, providing a vintage style to the design.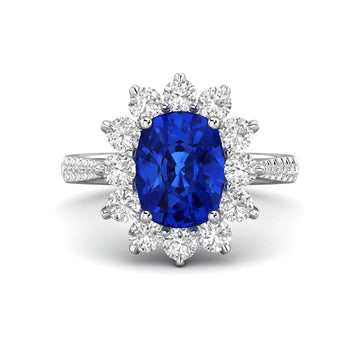 Hidden Halo has been rising in popularity and gives a modern romantic feel
While the traditional halo setting adds more flair to classic engagement rings, more creative halo settings are emerging that add more artistry and glitz to your ring.
An example is the hidden halo which features a circle of diamonds around the base of the centre stone. Thus, you won't see the halo when viewing the ring from above. But you can see it from the side, ensuring sparkle from additional angles.
Choosing a halo engagement ring design gives you access to some of the most modern ring styles with more glitz.
Good with any type of cut
The centre stone of the halo engagement ring is also very accommodating of diamond shapes, but it is popular with round, oval, emerald, cushion, and pear. The ring style will accentuate your centrepiece no matter its shape.
As such, popular halo engagement rings feature round, oval, emerald, cushion, and pear centre stones.
Side-stones
The side stones engagement rings have a gemstone set on either side of a centre stone.
Reasons to choose a side-stone engagement ring style include:
Designs can vary from modern to vintage style
The side-stone engagement ring style offers various designs, ranging from vintage to modern. In addition to "simple vs pavé" band and centre stone shape choices, you can also set your ring apart with the cuts of the side stones.
Popular side-stone engagement ring designs include:
Trilogy
Trilogy rings feature three distinct stones, symbolising the past, present, and future of the couple's relationship. The bigger centre stone represents the present, while the two side stones represent the past and future.
A show-stopping trilogy ring is the magnificent Teria engagement ring. With three round diamond stones set next to each other, it uses three stones to add more elegance to a classic engagement ring.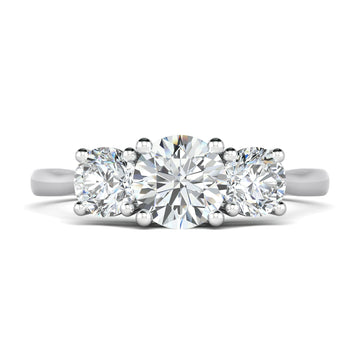 Cluster
Cluster side-stones engagement rings use two matching groups of small diamonds on either side of a centrepiece. The group of small diamonds flanking the big centre stone can easily create a packed vintage look.
A perfect cluster ring is the dazzling Lania. It features a gorgeous centre-round brilliant diamond flanked by two groups of smaller diamonds set in a staggered arrangement.
Good with most cuts but mostly popular with round and oval cuts
Side stones engagement rings also accommodate most cuts. However, round and oval cut stones are more popular.
See our collection of side-stones engagement rings.
Vintage
A vintage engagement ring is inspired by jewellery from years gone by, such as the best designs from the Victorian, Edwardian, and Art Deco eras.
These rings capture the beauty of antique jewellery and add a modern touch to create stylish designs for today.
Good reasons to choose vintage rings include:
Statement designs, from delicate to bold
If you want to make a statement with your engagement ring, you can't go wrong with a vintage-style engagement ring. Vintage rings feature statement designs influenced by nature, different forms, and even celestial elements like stars.
So, you'll find lots of swirls, flower-shaped clusters, ornate metalwork, and other elaborate and bold elements.
Features some special aspects
Vintage rings feature some of the most delicate detail in engagement rings, such as milgrain and twisted bands.
Milgrain
This jewellery design comes as tiny dots (beads of metal) along the edges of a piece. The texture of the raised metal "dots" deliver additional sparkle that complements the featured gemstones.
The enchanting Era vintage engagement ring features a round central diamond flanked on either side by smaller diamonds bordered with a milgrain finish.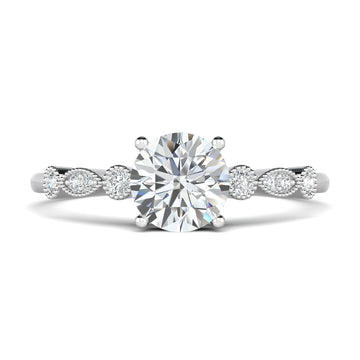 Twisted bands
This design comes as two bands that intertwine, symbolising the intertwining of the couple's lives. The twisted band's ring style gives a lot of room for personalisation.
For example, you may choose two different metals for the intertwining bands or have one band plain and the other pavéd.
The stunning Nebra Blue is a vintage-inspired twisted band engagement ring.
It features an oval blue sapphire centrepiece held by a four-prong setting and a mesmerising twisted band adorned with sparkling pavé-set diamonds.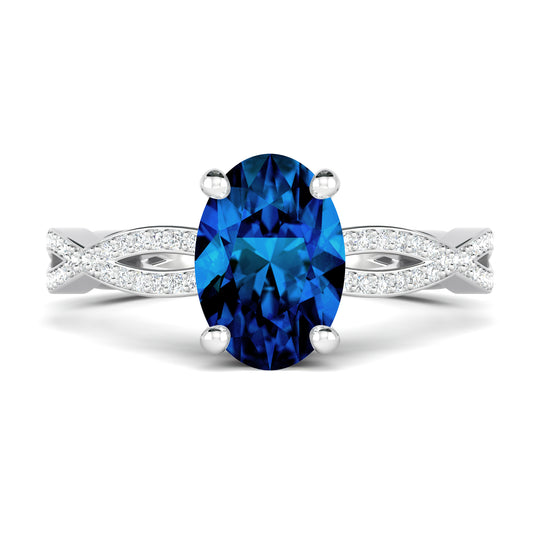 Usually use elongated cuts like oval, marquise, or emerald
Vintage engagement rings usually use elongated stone cuts like oval, marquise, and emerald. So, if you prefer fancy cuts, vintage-styled rings are some of the best to help the central stone shine best.
See our selection of delicately finished vintage rings merging the beauty of yesteryears with modern tastes.
Personalisation of engagement rings
Jewellery shops offer pre-designed rings. But most often than not, they let people personalise their rings to create a one-of-a-kind piece. You can personalise your engagement ring as much as you want by mixing and matching the different design aspects.
Popular design aspects people tweak while personalising their engagement rings include the central stone, the cut of the stone, the band's metal, and the setting of the stone.
Let's explore them in detail.
The central stone
While diamonds are popular in modern engagement rings, the centre gemstone does not have to be a diamond, giving you room for personalisation.
Even when going for a diamond central stone, you have a choice between traditional white diamonds and coloured diamonds (like rose gold, yellow gold, etc.).
When going for other gemstones, you can choose from classics (like rubies, sapphires, and emeralds) or more trendy stones (like morganites or tanzanite).
The shape of the stone
You can personalise your ring with the shape of the stone. The central stone of engagement rings comes in a range of shapes, including round, oval, heart, pear, princess, etc.
During engagement ring shopping, you can personalise your piece by choosing a shape that reflects your personality and emanate the fire, sparkle, and allurement you desire.
While shape and cut are often used interchangeably, they are technically different. Shape refers to the form of the diamond (e.g., round, oval, heart, etc.).
But cut refers to the diamond's proportions, symmetry, and polish. The "cut" affects the diamond's characteristics like sparkle. 
You may also like:
The band's metal
Different types of metals are used in crafting rings' bands. While gold is the most popular metal for ring bands, other metals used include platinum, palladium, sterling silver, titanium, and tungsten.
You can choose a metal you desire to personalise your ring. Some ring designs even allow you to mix two different metals.
The setting of the stone
An often-overlooked design aspect for personalising engagement rings is the stone setting (how the stone is mounted on the metal band). Some of the most popular engagement ring settings are prong, bezel, tension, and flush setting.
You can personalise your ring by opting for a particular setting. The setting affects the sparkle of the stone as well as the security of the stone to the band (and the durability of the ring).
For example, the prong setting raises the centre stone, giving it more emphasis and room to shine.
Also, the bezel setting is considered the most secure ring setting, as it places the centre gemstone inside a cup and folds a metallic rim over it to hold it in place securely.
So, you should consider a bezel engagement ring if you are a very busy or active person.
Read also: The Different Types of Engagement Ring Settings
Takeaway: Use knowledge of ring styles to get your perfect engagement ring
When shopping for an engagement ring, you'll want a ring your partner will love and one that will not fall apart easily. This calls for considerations like the wearer's personal preference and lifestyle. This is where the ring style comes in!
The ring style affects its appearance and security, so knowing the different ring styles and their unique advantages helps you choose the perfect engagement ring.
You can find your dream ring among the five popular ring styles discussed in this guide - solitaire, pavé, halo, side stones, and vintage
Considering the wedding ring design can also help when choosing the engagement ring.
For example, a bold wedding ring design would require a simple engagement ring like a solitaire, while a toned-down wedding ring allows you to choose a more elaborate engagement ring like a vintage piece.
Get more valuable insight about choosing your wedding ring in this article: How To Choose Your Wedding Ring (Ultimate Guide).
---